All of our treatments at Glacier Med Spa give our clients amazing results, but imagine if you combined them to get even better results? When pairing treatments together we are able to address multiple concerns and chances are you will see results even sooner. Here are a few of our favorite treatments to pair.
Dermaplaning and Microneedling
Dermaplaning and Microneedling are effective standalone treatments. But combined they can produce optimal results. You may be asking what these two treatments are so let's start with the basics of each treatment. Dermaplaning is a safe and simple skin rejuvenation treatment intended to exfoliate the epidermis and remove facial peach fuzz. It leaves the skin smoother and looking healthier. This exfoliation allows for your skincare products to penetrate more readily into the deeper layers. Microneedling is used to generate new collagen and skin tissue for smoother, firmer, more toned skin. Microneedling is mostly used on the face and may treat various scars, wrinkles, and large pores. During this treatment, your aesthetician will choose 1 of 3 serums based upon your skin concerns to enhance the microneedling results. By dermaplaning beforehand these serums can penetrate easier and deeper therefore giving even better results.
ViPeel and NeuroToxins
The "ToxBooster" combines the ViPeel and neurotoxins (think Botox, Dysport or Xeomin) . We already know the VI Peel treats acne, melasma, aging, hyperpigmentation, and scarring, while increasing cell turnover and stimulating collagen production for long-lasting results. Following the VI Peel with a Neurotoxin injection in one, simple procedure not only helps soften and smooth fine lines and wrinkles but creates a smooth, even skin texture.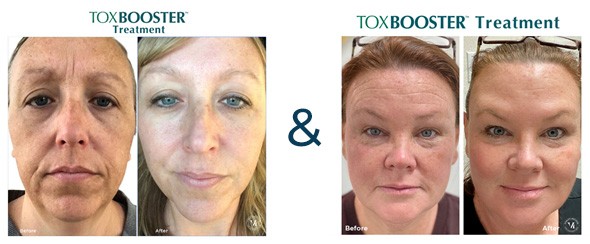 Microneedling and DiamondGlow Facial
Microneedling is one of our favorite treatments at Glacier Med Spa. It addresses a variety of skin concerns, including fine lines, texture and tone, and is safe for almost all skin types. Often after a microneedling session your skin can become dry and flakey. The DiamondGlow facial is a great option if you're seeking to prevent or slow signs of aging with no downtime. A DiamondGlow facial includes exfoliation, extraction and hydration. It can treat problems with the skin texture and other concerns like fine lines, crepey skin, or even dullness of the skin. We recommend having a DiamondGlow facial 1-2 weeks after your microneedling session to help eliminate the dryness and bring the glow back to your skin!